Advantage Card
Earn Miles and save - in all the Island Water World Stores.
Advantages
Get Started
Conditions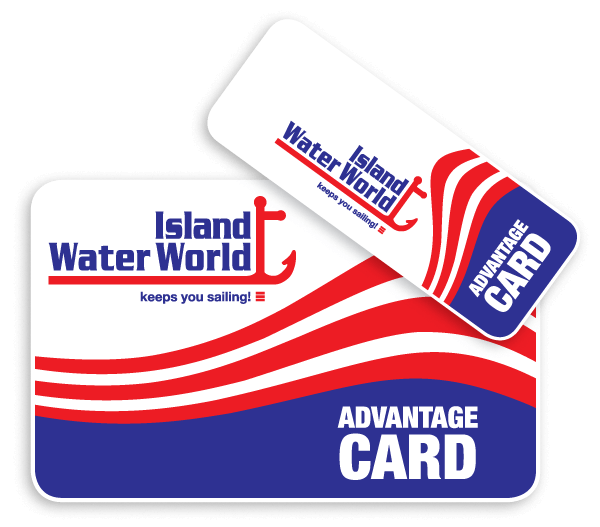 Advantages
Earn 1 Mile for very US $1.00 spent at any of our Island Water World Stores! 100 Miles are worth US $5.00, 5,000 Miles are worth US $500.00!
At 500 or more Miles you may redeem your Miles against purchases at any Island Water World Store.
Have you accumulated 5,000 Miles? Double the value of your Miles! Come and exchange it for a US $500.00 voucher to redeem in the store it was issued.
No fee to join!
Even More Advantages!
Deep Discount program: Are you planning to purchase US $10,000 or more in a single transaction? We will offer you our deep "Boatyard" trade discount! Ask one of our Store Managers to quote on your specific needs.
Enjoy exclusive discount offers on selected items from premium suppliers of Island Water World – available only to Advantage Customers.
Special promotions and close out deals offered first to Advantage Customers.
Special birthday gifts and awards.
Get your Island Water World 'Crew' T-shirt.
Terms & Conditions
Program available at all Island Water World stores.
Miles accumulated can be seen on your latest invoice.
You may redeem Miles once you have accumulated more than 500 Miles. The minimum redemption in each ticket is 500 Miles.
Miles are not earned on products already discounted for promotional purposes in stores, boats & motors and on special orders.
Program valid at Island Water World Store locations only (Agents and Dealers are not included in the program).
Miles are for purchasing of merchandise only. Miles are neither earned on the purchase of fuel, docking or any services nor are they earned on any taxes paid.
Miles cannot be redeemed, nor discounts offered against the purchase of gift cards, fuel, docking, services or taxes. Not exchangeable for cash.
Enrollment in Island Water World Advantage program is required to receive the above discounts.
Limited to one membership per customer, per boat. Miles expire if card remains inactive for more than 12 months.
Stolen or damaged cards will be replaced on proof of identity (photographic proof and signature – e.g. Passport) – and provided the card is active.
This card is not available to account customers who enjoy other discount programs with Island Water World.